Upcoming Events
The 15th Global Conference on Ageing will now be convened both virtually and in-person
An invitation to a Zoom Webinar: Urgent Reform of Long-Term Care
Friday, September 25, 2020, at 4:00 pm Eastern Standard Time
The National Pensioners' Federation (NPF) and the Council of Senior Citizens' Organizations of BC (COSCO) invite you to participate in a national webinar focusing on the national reforms that are needed, right now, to ensure that seniors in long-term care residences live in safety and enjoy a quality of life that enables them to live in dignity, enjoying a respectful environment which meets their individual needs.
Join us and our expert panel (Dr. Pat Armstrong, distinguished Research Professor, York University and a Fellow of the Royal Society of Canada Dr. Penny MacCourt, Health Well Educators and Consultants Anil Naidoo, National Representative, National Union of Public and General Employees) to discuss the crucial role that the federal government needs to take now.
The webinar will be chaired by Trish McAuliffe, President, NPF and
Moderated by Andre Picard, Health Columnist, The Globe and Mail.
REGISTER HERE
reply instructions will follow in an email confirmation
The 4th annual Mental Health For All Conference runs from September 23-25, 2019 at the Westin Harbour Castle in Toronto's revitalized Harbourfront.
The conference has become the largest community mental health gathering in Canada, drawing some of the best minds – and hearts – in mental health. This year's theme is Connection interrupted: Restoring mental health in a fractured world.
Visit www.conference.cmha.ca or reach us at conference@cmha.ca.
Vibrant Voices Election 2019 Priorities
Today we gather as 9+ senior organizations to lobby MPs to ensure our priority issues are addressed in federal platforms 2019.
Groundswell 2018: June 22-23 in Ottawa
Hello! The Council of Canadians is bringing together members of the public, supporters and allies for an exciting weekend of events Ottawa June 22 and 23 with the generous help of our sponsors in the Labour community. Please help us make Groundswell 2018 as successful as possible by sharing the following invitation with your contacts and members in Ottawa. Should you require any additional information please don't hesitate to be in touch with me. In solidarity, Hélène Bertrand Development Officer, The Council of Canadians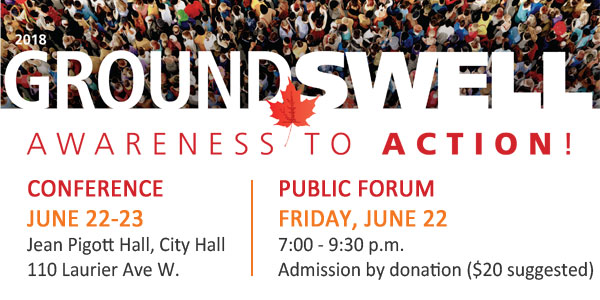 Every day, Canadians face the reality of the Trudeau government's broken promises. From its failure to protect lakes and rivers from Big Oil, to meet internationally-stated climate pollution reduction targets, and to make our electoral system democratic – promises have been made, but not kept. So how do we turn awareness of these broken promises into action? It's simple: we come together to create a groundswell of people power. By working with civil society groups, labour, Indigenous peoples and others we can put forward a positive vision of a better tomorrow and act on it. Join the Council of Canadians in Ottawa, Ontario June 22 and 23 for the Council's Annual Conference. Come together to share ideas, make connections and find ways to take action for a brighter future.

The conference features an exciting line up of speakers including Maude Barlow, Honorary Chairperson of the Council of Canadians, Anjali Appadurai a Climate Engagement and Communications Specialist with West Coast Environmental Law, Dr. Elaine Bernard, Senior Research Associate and Fellow at Harvard University's Labour and Worklife Program, and Linda McQuaig, an author and journalist and more!

We're excited to share our updated conference agenda with fantastic speakers, plenary panels, workshops and more! Visit our website to learn more and to register. We hope to see you there!
Groundswell 2018 : les 22 et 23 juin 2013 à Ottawa Bonjour! Le Conseil des Canadiens, grâce au généreux soutien de ses commanditaires du mouvement syndical, réunira à Ottawa les 22 et 23 juin prochains, citoyens, militants et alliés pour un weekend d'activités des plus stimulantes. Aidez-nous à faire de notre congrès Groundswell 2018 un franc succès en diffusant l'invitation suivante à vos contacts et membres de la région d'Ottawa. Pour de plus amples renseignements, n'hésitez pas à communiquer avec moi. En toute solidarité, Hélène Bertrand Agente de développement, Conseil des Canadiens Chaque jour, les Canadiennes et les Canadiens se mesurent à la réalité des promesses rompues du gouvernement Trudeau. Que ce soit dans son échec à protéger les lacs et les rivières contre les grandes pétrolières, à atteindre les cibles internationales de réduction de la pollution atmosphérique ou à rendre démocratique notre système électoral, ce gouvernement a fait des promesses, mais ne les a pas tenues. Cela étant, comment fait-on pour transformer la conscience de ces promesses non tenues en actions? C'est simple : on se réunit pour créer une vague de fond de pouvoir populaire. En collaborant avec des groupes de la société civile, le mouvement syndical, les peuples autochtones et d'autres, nous pouvons mettre de l'avant une vision de lendemains meilleurs et y donner suite. Joignez-vous au Conseil des Canadiens à Ottawa en Ontario les 22 et 23 juinprochains dans le cadre de notre congrès annuel. Rassemblons-nous dans le but de partager des idées, créer des liens et trouver des façons d'agir pour bâtir un avenir meilleur.

Le congrès présente une brochette stimulante de conférencières, notamment Maude Barlow, présidente honoraire du Conseil des Canadiens, Anjali Appadurai, West Coast Environmental Law, Elaine Bernard, principale associée de recherche et agrégée du programme Labour & Worklilfe de l'Université Harvard, Linda McQuaig, auteure et journaliste, et d'autres encore! C'est avec plaisir que nous vous présentons le programme actualisé de notre congrès, ses conférencières hors pair, les sessions plénières, les ateliers, etc. Rendez-vous sur notre site web pour en savoir plus et vous inscrire. Au plaisir de vous voir au congrès! *Veuillez prendre note qu'en raison de nos ressources limitées, le congrès se déroulera en anglais seulement. Our sponsors / Nos commanditaires: